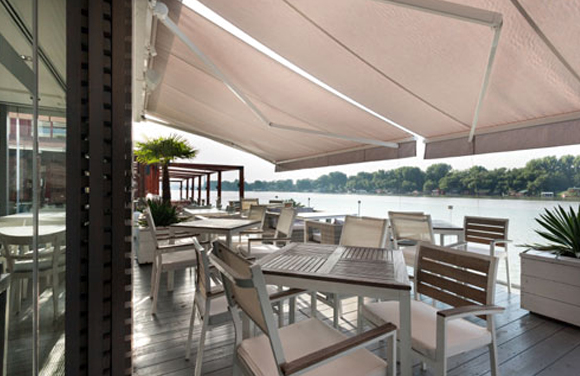 Deck your exterior walls this Christmas with the boughs of Easy Blinds' folding arm awnings, to keep your outdoor areas free from any structures! These trendy adjustments have the ability to fold away like origami and can extend with 5, 10- or 15-degree pitches as standard, with the option of other pitches available upon request. Providing complete protection from the elements and extending your indoor living into the outdoors all year round.
Folding arm awnings are perfect for overhead sun protection, minimising harmful UV rays and maximising heat reduction. All the components of these extendable awnings are cast aluminium or marine grade stainless steel – ensuring a cool, stylish long life with face mounting to your building or top mounting selections also available.
Easy Blinds' awnings can be operated by gearbox with a handle or automated with the press of a button! With heavy duty Star Flek canvas fabric, in 34 solid colours or stripes, the choice is yours to compliment your home with these special in season beauties! What better way to hide from the summer sun than under one of Easy Blinds' carefully selected canvas options?
The friendly team at Easy Blinds work with home renovators, interior designers, property developers and property managers. Their quality made-to-measure custom extendable awnings can be shipped throughout New Zealand from their Auckland based premises. With a minimum 5 year warranty, why not take control of the very diverse weather we have to deal with in Aotearoa and order your choice of cost affordable awnings.
Don't miss out on this amazing Christmas opportunity, grab your phone or jump online and contact Easy Blinds today to keep your family cool in the comfort of your outdoors with these must have home additions. Contact details available below, enquire now for your free quote.
"Nobody looks after you like Easy Blinds."
Contact Easy Blinds:
Phone: 0800 110 385
Email: don@easyblinds.co.nz
Website: sales@easyblinds.co.nz
Facebook: https://www.facebook.com/easyblindsnz/
Instagram: https://www.instagram.com/easyblindsnz/
YouTube: https://www.youtube.com/channel/UCfolJ09awjrzj_YXQDX8DBA
LinkedIn: https://nz.linkedin.com/company/easy-blinds
Address: 2 Wagener Place, St Lukes, Auckland, New Zealand
Contact MediaPA:
Phone: 0274 587 724
Email: phillip@mediapa.co.nz
Website: www.mediapa.co.nz
Facebook: www.facebook.com/MediaPA
Twitter: www.twitter.com/NZ_MediaPA
YouTube: www.youtube.com/user/TheMediaPA
Pinterest: www.pinterest.com/NZMediaPA