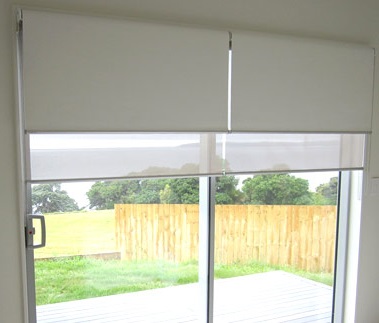 Double roller blinds contain both blockout and sunscreen blinds, allowing adjustment for light or privacy depending on the time of day. Instead of having to weigh up which type of blind a room needs most, you have both options at your fingertips. During daylight hours, the sunscreen blind allows soft natural light into the room while protecting furnishings from direct sunlight. At night, changing over to the blockout blind turns the room into a private space which can not be viewed from the outside.
Double roller blinds are perfect for rooms where this kind of flexibility is desired. A special double bracket is used when installing double roller blinds, reducing the amount of window frame required and allowing them to blend unobtrusively into living spaces. Each blind is controlled by a separate side winder mechanism for ease of use, and can come in either a manual or a motorised setup.
Easy Blinds offer double roller blinds in a variety of colours and fabrics. As experts in customised made to measure blinds, we combine range and product quality with competitive pricing and a faster service.
Dual purpose adjustable blinds
Light during the day and privacy at night
Range of colours and fabrics
Manual and motorised options
Will fit most window frames