Vertical Blinds are great for covering large windows and sliding doors
In a striking array of stylish shades, our Vertical Blind collection will add sophistication to your home or office. Great for larger windows where you can control the light with a simple twist or draw back for uninterrupted views.
Vertical Blinds are particularly suited to large windows, patio windows and sliding doors. With a blockout backing, enjoy beautiful shading when the sun gets too much.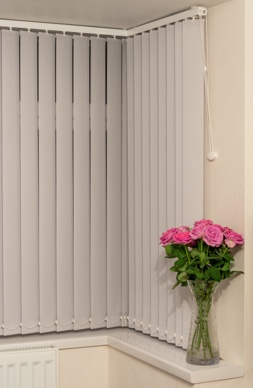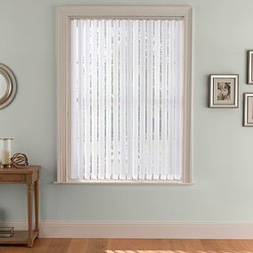 Blockout out light create privacy by turning the vertical panels parallel to the window.
Allow light in and see out of the window by rotating blade until perpendicular to the window.
Stack the blind on one side or the other by simply pulling on the control cord.  Centre split also available.
Plastic chains on the bottom of the panels keep the blades in line.  These plastic chains can be a drawback if young children are about however vertical blinds can function without them.
Fabric, traditionally plain moderate cost 100% polyester with acrylic coating, lead and PVC free, dust and mold resistant.
Designer textured blockout fabrics can be used.